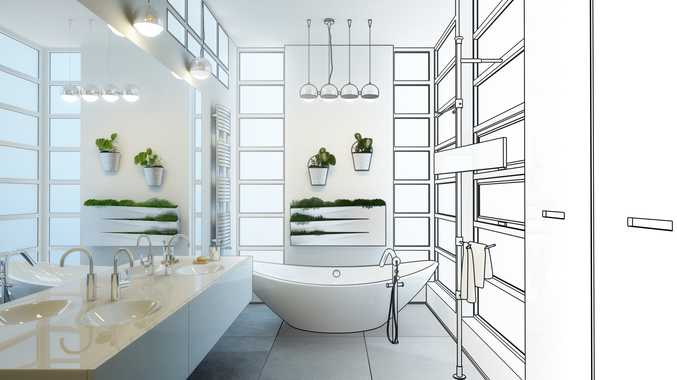 A new bathroom can revitalise your mornings, setting you on the right path to a good day, but the cost of doing so can be a big downside for home renovators. Still, there are ways to get that new-bathroom feeling on a budget.
The basics
Home owners do not have to rip out their existing fixtures or tiles off the walls to get a new look, as tweaking them is a simple, cheap way to get the same impact. Changing the light globe from cool to warm - or vice versa - can put an instant change in the air, and may also give the colour of any paintwork a new hue. Speaking of paint, applying a new colour altogether is a quick makeover fix. Go one step further and change the showerhead for a different look and feel; replace the taps; or perhaps even install a new cistern for the toilet. The cost of upgrading the basics start from as little as $10-$200.
Keep a lot of what you've got
Identify what really irks you about the bathroom that has made you decide to renovate. For example, is it the fact the vanity is out of date? Do you want a bath, or do you find the bath you have is a waste of space? Determining what the real problem is may help cut costs on unnecessary changes, or enable you to splash all your money on what your heart really desires. If you can avoid relocating the sink, bath, shower and/or toilet to a different part of the bathroom in your renovation, plumbers say that you could save as much as $2,000 from having to move plumbing and fixtures. Ripping up the floor also is a costly exercise, so if you can keep your existing flooring, costs also can be kept down. Meanwhile, cleaning or re-grouting the bathroom is the easiest way to improve the look of tiles in a matter of hours.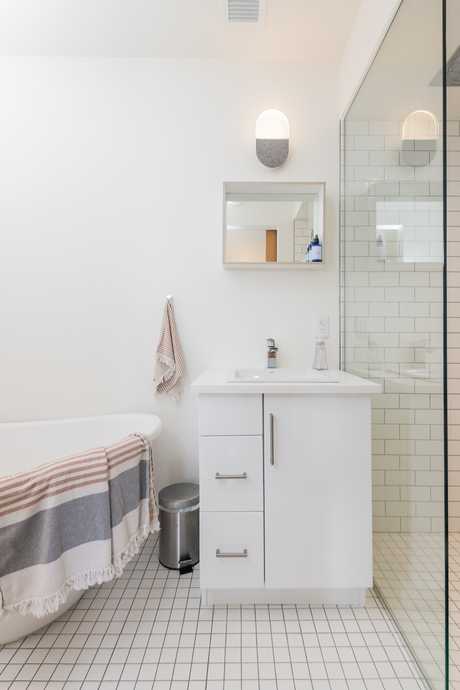 Weigh up luxury and reality
The luxurious feeling of a rainfall showerhead may be great when on holiday, but these modern fittings don't provide as much water pressure as a normal showerhead. If quickly rinsing the shampoo out of your hair in the morning rush is a necessity, beware you may quickly regret spending the money on that upgrade. Heated towel racks and heat lamps also sound like great ideas for cold winter days but can boost electricity use - and therefore your electricity bill. If possible, try luxuries before you buy, get feedback from friends and family who have installed similar features and research the pros and cons of products online to determine if they're worth the extravagance or are best saved to enjoy while you're on your next holiday.
Trust the professionals
As much as it saves money getting your handy relative to come in and do the work for you, for the cost of a bottle of their favourite beverage, contracting amateurs to do the work can cost big bucks down the line if mistakes are made or the quality of their labour fails. Take the time to talk to and trust the trained experts, obtaining quotes from certified professionals and seeking their advice or suggestions on how to stick to your budget.
Find professional, experienced tradies for your bathroom reno with Buy Search Sell.
By Cara Jenkin