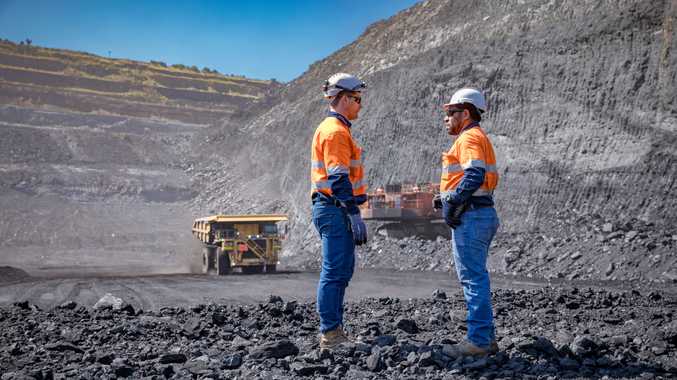 Australia's mining workforce is on track to return to the record-highs experienced early last decade with more than 10,000 jobs forecast to be created in the next five years alone.
The number of people employed in the sector broke through 200,000 at the start of 2011 and rapidly rose to peak at 274,200 by May, 2012, Australian Bureau of Statistics figures show.
However, a fall in prices and reduced demand saw the workforce fall to about 213,000 people by 2015.
Since August, 2017, the number of people employed has been on the rise again, with 251,200 workers as of November, 2019.
Employment, Skills, Small and Family Business department figures forecast by May, 2024, 262,800 people will be employed in mining.
Minerals Council of Australia chief executive Tania Constable says the mining industry has been the largest contributor of any industry to economic growth in the past decade.
"Yet the myth that the mining boom is behind us still persists in some parts of Australia," she says.
"The mining industry has undergone a period of significant expansion in the past decade, with a period of massive investment supporting many construction jobs in the industry as new mines, processing plants and infrastructure were built.
"This means Australia is now producing new record volumes of coal, iron ore, bauxite, gold and lithium.
"This production phase of the boom will last much longer, because mines typically take a few years to build but can run for considerably more than 20 years."
Australian Bureau of Statistics figures show more than one in three (35 per cent) of workers in the mining industry are machinery operators/drivers, including truck drivers as well as drillers and shot firers.
One-quarter are tradespeople, such as electricians and welders, and 15 per cent are professionals, such as mining engineers.
Ten per cent are managers and 8 per cent are administration staff.
Most (100,000) workers are employed in the metal ore sector, sourcing such metals as gold, iron and copper.
Another 54,000 are employed in the coal sector, and 25,000 in oil and gas.
About 16,000 people are employed in the non-metallic mineral and quarrying sector, sourcing such as sand and granite.
Almost 50,000 people are employed in exploration as well as mining services.
Western Australia has the highest number of mining workers, followed by Queensland and New South Wales.  
However products are mined in every Australian state and territory, providing opportunities everywhere.
"When supply chain workers are included, mining supports one in 10 Australian jobs - or 1.1 million jobs across the nation," Constable says.
"Most of the things we use in daily life are made from mined materials - if it didn't grow, it was mined," she says.
"So with global population growth and rapidly escalating demand for energy and infrastructure, we are using more minerals and metals than ever.
"You can expect the appetite for our world-class Australian resources to remain strong.
"This in turn creates a demand for first-class people to work in the industry."
Constable says mining workers also have the highest wages in Australia, with average earnings of $141,000 - 61 per cent above the national average.
"Australian mining has an outstanding workforce in Australian mining and needs more talented, smart and creative people to meet the growing demand for our world-class minerals," she says.
"Our miners are younger than the all-industries average, highly paid, highly skilled and totally committed to be the best in the world at what they do.
"They also look after the environment, their mates and put a huge amount back into their local communities."
NEXT MONTH: THE MINING LIFESTYLE  
Brought to you by Minerals Council of Australia