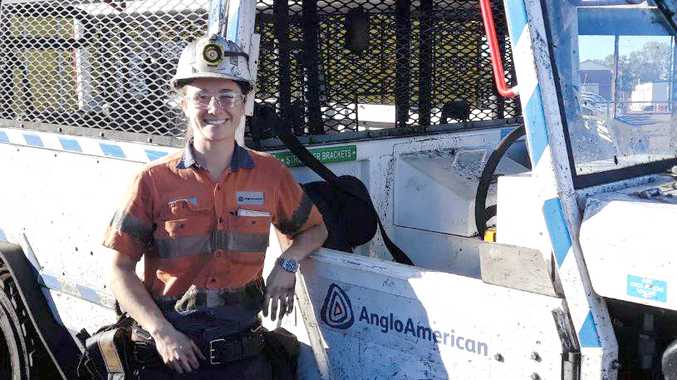 Sarah Coughlan gets as much time off as she is at work - and that's just the way she likes it.
Coughlan, is a graduate mining engineer at AngloAmerican's Grosvenor Mine, located in Queensland's Bowen Basin.
While the traditional workforce spends five days a week at work and only gets two days off, she is employed on a roster that gives her more time off between working weeks.
"I do two days, three nights in one roster, then five days off," the coal miner says.
"Then I do five day shifts straight and get four days off, then four nights on and four days off.
"It's complicated but having 50 per cent of my time to myself is great."
The mining lifestyle in remote locations often requires workers to fly as their commute, stay on site for several days, then fly home.
Drive-in, drive-out options may also be available.
These workers have all their food and accommodation provided during their time on site, as well as recreational facilities including pools, gyms and other sports facilities, and theatre rooms to watch movies and pay TV access for when they are not on shift.
Workers typically work 12-hour shifts, either during the day or overnight. When not at work, mining workers use their extended time off for many pursuits, ranging from dedicating time to hobbies and caring for family members to further study and going on holidays.
Coughlan goes to the cane farm she bought with her partner. "So I'm a farmer on my days off," she says.
Coughlan last year became the first woman in Queensland to obtain the Deputy Certificate of Competency, which in underground coal mining, means she controls activities in one or more explosion risk zones.
She was first introduced to the mining industry through the Queensland Minerals and Energy Academy (QMEA) during high school at Nanango State High.
She studied mining engineering at university then was employed by Anglo American. "After starting my career in the mining industry, I knew I wanted to work underground and this program was a natural next step for me," she says.
"There has been a group of us working towards our Certificate of Competency over the last four years and we've all supported each other through the process.
"I'm glad to have had this development opportunity and am really looking forward to taking on additional responsibilities as I build my career in underground mining.
"We are fortunate to work in an amazing industry that can be both rewarding and challenging."
Brought to you by Minerals Council of Australia