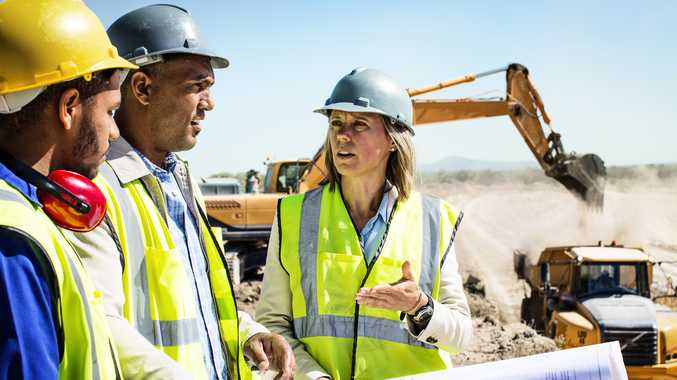 AUSTRALIA'S mining industry is more diverse than many people realise - and not just in the minerals and metals it produces but in the workers it employs.  
More women, Indigenous Australians and people with disabilities are entering the mining workforce, and bringing broader experience and perspectives with them.  
Minerals Council of Australia chief executive Tania Constable says more flexible working arrangements and changes to the industry have made mining appealing to people from a wider range of backgrounds.  
"The modern mining industry is much more than just big machines, hard hats and high vis," she says.  
"Geologists and mechanics, engineers and environmental scientists, accountants and drone pilots are just a snapshot of the careers on offer.  
"Future working arrangements will be more flexible, providing further incentive for prospective applicants from more diverse backgrounds to consider a career in the mining industry.  
"There will also be greater collaboration, creativity, and social science skills required to deal with changing community expectations."  
Australian Bureau of Statistics figures show the number of women employed in mining increased from 20,900 in 2007-08 to 35,700 in 2017-18. Similarly, the number of people in mining with a reported disability increased from 11,400 in 2012 to 15,400 in 2018 and the number of Indigenous Australians grew from 5435 in 2011 to 6654 in 2016. Constable says a more diverse industry is a stronger industry.  
"Building the future minerals workforce means a greater focus by industry on workforce diversity and inclusion, including gender diversity," she says.  
"Encouraging women to pursue and continue a career in mining is vital to increase the number of STEM (science, technology, engineering and mathematics) professionals in resources and build the workforce of the future.   "The Australian minerals industry is changing to attract a more diverse workforce with most employers offering part-time work options and flexible hours along with other initiatives.  
"For example, BHP is aiming for gender equality across its global workforce by 2025.   "Five of its 11 senior executive roles are held by women.  
"There are a lot more women working across all fields."   Constable says mining companies are also committed to working in partnership with Traditional Owners and Indigenous communities.  
"The minerals industry is one of the largest private sector employers of Indigenous Australians and a significant investor in Indigenous economic development," she says.  
"Partnerships have helped unlock unprecedented business, training and employment opportunities for Indigenous communities.  
"Entrepreneurial Indigenous businesses have established themselves as a critical part of the mining supply chain, providing high quality mine equipment, technology and services across the mining life cycle.  
"Indigenous mining jobs have grown 150 per cent since 2006 and nearly 20 per cent of Indigenous mining employees are women."  
Brought to you by Minerals Council of Australia