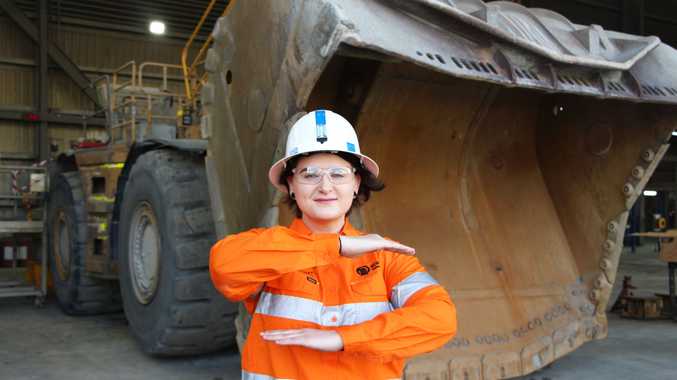 TALEIGHA Everingham-Potts thinks it is weird to say that her job is fun - but that is exactly what it is.
The second-year automotive electrical apprentice at Newcrest Mining's Cadia mine embarked on a career change two years ago to find a job that was fun and has found it in the vehicle maintenance and repair department at the gold and copper mine.
Everingham-Potts, 26, was working as a dispensing optician when she first applied for an electrical apprenticeship but during the interview process, she was steered towards an automotive electrical pathway instead because of her passion for cars.
"I love the grittiness of it, being hands on, being covered in grease and dirt and the camaraderie with the boys, and everything about it - it's fun," she says. "It's weird, because someone will say you shouldn't have fun at work. Every day is something different, it's fast paced, it's fun."
The Minerals Council of Australia reports mechanics are one of the top five in-demand trades workers in the industry, alongside electricians, steelworkers, plumbers and construction workers.
Many mine sites offer apprenticeship employment opportunities, in which career changers and school leavers can complete 36-48 months of training, including on-the-job experience, while being paid.
They also receive a nationally recognised qualification on completion.
Other vocational education - such as certificate I, II, III, IV and diploma training packages for mining, drilling and civil infrastructure - and traineeships offer other pathways for non-trade workers.
Everingham-Potts also enjoys the lifestyle that working in the mining industry provides, as the mine is located 25km from her home in Orange, NSW, and her roster provides weekends off.
"It's such a beautiful city, particularly around autumn when the leaves change," she says. "My relatives used to live here and I used to say, 'I'm going to live in Orange one day'."
She urges anyone interested in work in the mining industry or the trade to "go for it".
"Sometimes you just need encouraging words from a stranger," she says. "If you think you can do it, you probably can."