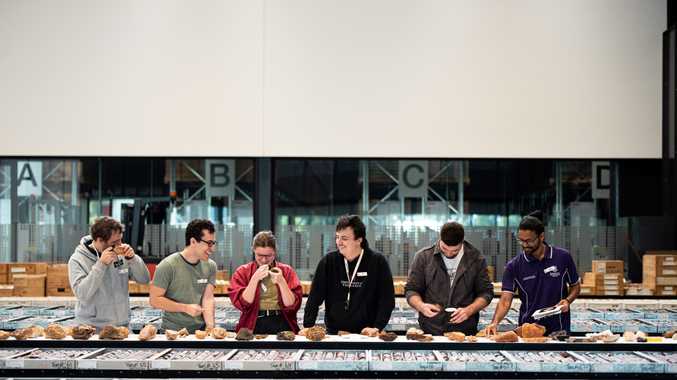 Universities and the mining industry are working closely together to ensure the workforce has the skilled workers required to analyse, experiment and improve, as well as provide pathways for graduates between study and employment.
The Minerals Council of Australia is working with several tertiary providers to ensure the skills being taught to the future workforce already are in demand by industry, but they also enable graduates to adapt to changing industry needs.
Eight universities offer a mining engineering degree - University of New South Wales, University of Queensland, Curtin University, University of Adelaide, University of Wollongong, Federation University, Monash University and University of Western Australia.
Another two institutions - Central Queensland University and the University of South Queensland - offer Minerals Industry National Associate Degrees (MINAD), a two-year university qualification that can prepare workers to begin a mining role, and can be a stepping stone to further education.
Other university subject areas that can lead to jobs in the mining industry include many other engineering areas, data science and data analytics, environment and sustainability science, computer science and cognitive engineering.
For those studying geoscience and geology, the National Exploration Undercover School (NExUS), funded by MCA, is helping university students get practical experience, gain contacts and improve employment prospects.
A group of 30 mostly third-year university students are selected from hundreds who apply from across the country for the three-week program held in South Australia.
NExUS program leader Dr Richard Lilly says the concept is based on North American summer schools, to fill the gap between what is learned in university and what employers seek in new recruits.
He says most participants do find employment, with such companies as Fortescue Metals Group, Rio Tinto and BHP. "Once people get into the minerals industry in Australia, there's a great diversity in direction in which they can take their career," he says. "They think they'll just be a geologist or a mine geologist (but there's more careers than that)."
Participants receive special access to mine sites, materials and contacts during the program. The first week is spent in Adelaide, which includes visits to the South Australia Drill Core Reference Library at Tonsley and casual evening information sessions in which participants hear from guest speakers and network.
The second week is spent discovering the ore deposits at a former mine site in Strathalbyn, southeast of Adelaide, where they gain vital field experience.
In week three, participants gain further practical experience at Wallaroo, a historic mining region on Yorke Peninsula.
Lilly says finding new deposits is increasingly hard so skilled workers who can use new technologies and bring new ideas to the field are needed now more than ever.
"All the government, industry, research institutions, to meet this challenge are spending a lot of money looking for other deposits - we're not finding as many as we have before, they are harder to find," he says. "It's not just about the technical content, it's about how to work in a team. There's 30/35 people who are all interested in the same thing and ... the networking, the bonding, the friendships they make are huge."
This year's course is expected to be held in November/December but may be tweaked because of issues created by the COVID-19 pandemic.