GULKULA Mine, near Nhulunbuy in the Northern Territory, is Australia's first and only Indigenous-owned and operated mine.    
Gumatj Corporation, which represents the Gumatj peoples - one of 13 Yolngu clans of North East Arnhem Land - has been operating it since October, 2017, with Rio Tinto then purchasing the bauxite, which is used to produce aluminium.  
Gumatj Corporation chief executive Klaus Helms says Indigenous Australians make up about 70 per cent of the mine's workforce and encourages more to consider a career in mining.  
"It's a growing industry and there is more opportunity than just the local area they are in," he says.  
Gulkula also has a training centre, offering Indigenous Australians job-specific training and the opportunity to develop the skills needed to enter full-time employment in mining and other industries.  
Helms says they only take on as many people as they have jobs to give.   "If we have got jobs, we target those jobs with training and that is what they go into," he says.  
"If they finish the course, they have got the job.   "It's not all mine directed - we have timber industry, building industry, cement work, cattle farms, too.  
"Rio Tinto takes quite a number of people from our training into their organisation, which gives them the leg-up to be employed."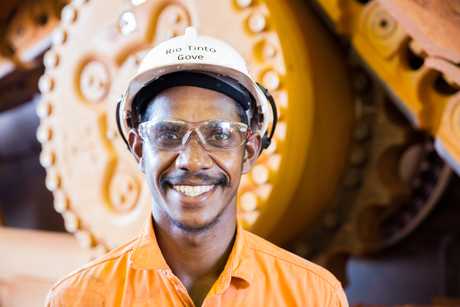 Rio Tinto also maintains the Nhulunbuy township and airport and provides essential services to the town and surrounding communities.  
Australia's vice president of corporate relations Brad Haynes says the company is committed to working in partnership with Indigenous communities across Australia.  
"We focus our effort across areas such as Indigenous employment, education and training, and business development," he says.
"We have more than 30 land use agreements with Traditional Owners and are one of the largest private sector employers of Indigenous Australians, with over 1300 permanent Aboriginal and Torres Strait Islander employees."  
He says there are Indigenous Australians in many leadership roles and there is a strong focus on employee retention and development.
Rio Tinto has also spent more than $3 billion over the past five years engaging Indigenous Australian businesses.  
"Supporting local businesses makes a significant contribution to regional economies through direct and indirect employment, improving wellbeing and prosperity," she says.  
Brought to you by Minerals Council of Australia